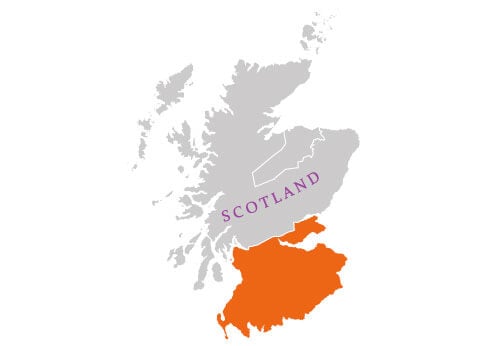 Lowland
Single Malt Scotch Whisky
The Lowlands – like most of Scotland – were once a thriving hub of malt whisky production, until the need for grain to drive blended Scotch production made making single malt an almost forgotten art. But a few outposts preserve the old ways and a grassy, easy-drinking style of malt that still has many admirers.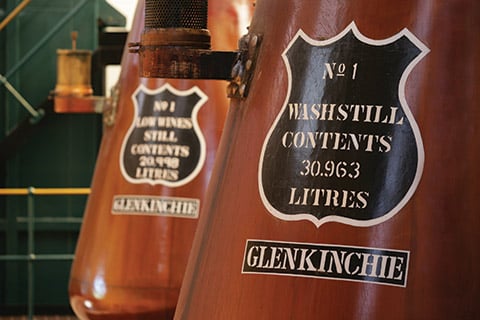 Lowland whiskies are the lightest, most delicate whiskies in Scotland
Decline and fall
Mass production was the enemy of single malt production in the Lowlands – including Edinburgh and Glasgow – with distillers earning the region a bad reputation in the 18th and 19th centuries by flooding the market with poor-quality spirit.
Already impacted by the rise in popularity of blends – suffering in comparison with their more 'characterful' Highland rivals – Lowland malt distilleries were dealt further blows by tax hikes, the First World War and the onset of Prohibition in the US.
Gripped by grain
These factors ruined the finances of many distillers, leading them to close their facilities or refocus on making grain spirit to be combined with Highland and Island malts for the rising number of blended Scotch brands.
Survival of the fittest
Thankfully, a few hardy Lowland distilleries survived the bad times, continuing to produce the gentle, grassy and easy-drinking single malts that are the signature style of the region, including Glenkinchie just east of Edinburgh and Auchentoshan on the outskirts of Glasgow – whose triple-distilled whisky offers an echo of Lowland distillation history.
There are new arrivals, too: tiny Daftmill in Fife, which began production in 2003, and Ailsa Bay on the Clyde coast; a much bigger affair and – perhaps appropriately given its Lowland location – with all of its production destined for blends. Another distillery, Annandale in Dumfriesshire, is slated to open later in 2014.
Did you know?
almost all Lowland single malt was

triple-distilled

at one time, but these days, only Auchentoshan uses the technique for all of its production
Daftmill is a Lowland malt because of its location in the borough of Fife – but is

several miles

further north than Highland distilleries Deanston, Glengoyne, Loch Lomond and Tullibardine
Ailsa Bay, the

largest

malt distillery in the Lowlands, is also one of the biggest in Scotland, with a capacity of 12m litres a year – but it's all used for blends
Typical Character and Style of Lowland
Grass

Honeysuckle

Cream

Toffee

Toast

Cinnamon
Distilleries in Lowland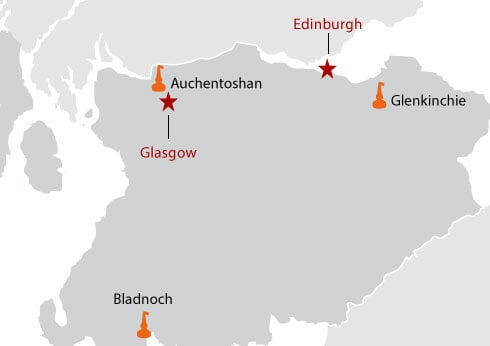 Close
Price Range
Bottling Status
Distillery/Brand
Age
Vintage
Cask Type
Bottler
Series
Strength
Size
Single Cask
Limited Edition
Flavour Profile
Colouring
Sustainability