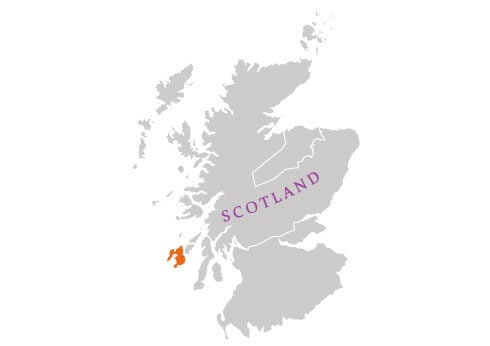 Islay
Single Malt Scotch Whisky
Islay is best known for its disproportionately high number of distilleries – eight, with more planned – and for a distinctively peaty style of single malt. Beyond the obvious lurks a surprising diversity of spirit, making the identity of Islay whisky a more elusive prospect than might first appear.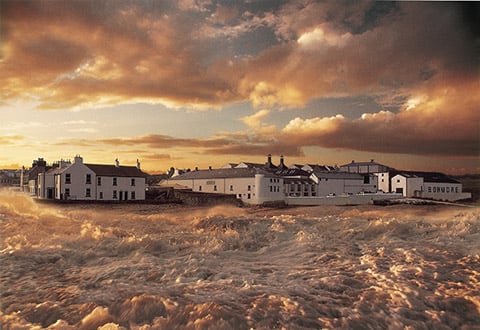 Islay's rugged climate is reflected in its whiskies
Absent friend
Amid all the talk of Islay's famous active distilleries, the island also boasts one of the most legendary of 'lost' producers: Port Ellen, which closed its doors in 1983. Its strongly smoky, turfy flavours were an artist's study of the most typical Islay style and its whiskies remain among the most sought-after.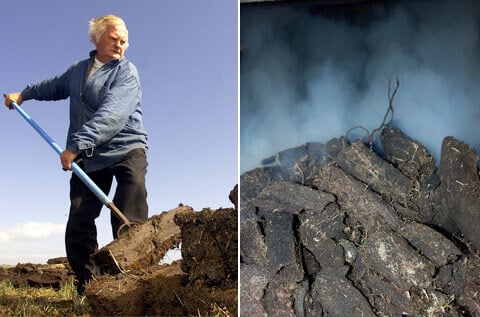 Peat is the main source of fuel on the island, and also gives most Islay whiskies their distinctive flavour
Southern smoke
Port Ellen's fate could easily have befallen some of its surviving neighbours, with Ardbeg famously mothballed in 1982 and restored to full production only in the late 1990s.
Given Ardbeg's cult status, that's hard to believe; the distillery is now a firmly established part of the Kildalton trio of Islay's southern coast and, with neighbours Lagavulin and Laphroaig, these producers have come to epitomise the popular image of Islay single malt: maritime peat smoke in different styles.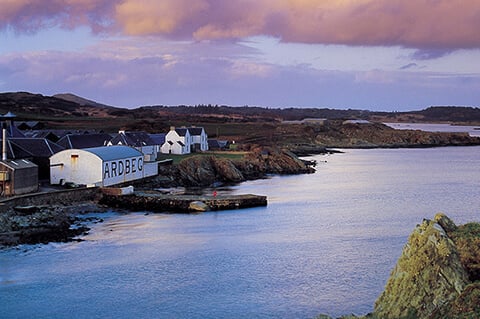 Ardbeg, along with Lagavulin and Laphroaig, forms the Kidalton trio of distilleries on Islay's south coast
Islay's other side
But Islay isn't just about peat. Travel north and, in time, you'll come to Bunnahabhain on the shore facing Jura, whose spirit has both used and eschewed peat during its history; in the west, Bruichladdich is typically unpeated – but has been unable to resist making a couple of super-smoky whiskies in recent years.
Completing Islay's current roster of distilleries we have Caol Ila's fragrant smoke (although the distillery makes unpeated spirit for part of the year), Bowmore's richly fruited smokiness and – the most recent addition to the ranks – self-styled 'farm distillery' Kilchoman, maker of a charming young malt (it only opened in 2005) from its own barley.
Did you know?
Islay's smoky style comes from malting barley over burning

peat

, giving flavours known as phenols. These are measured in parts per million (ppm), with Ardbeg's 10 year old, for instance, measuring 24ppm
some historians believe distillation reached Scotland from

Ireland

via Islay in the 13th century, when the Lord of the Isles married the daughter of an Ulster baron

Prince Charles'

love of Laphroaig has come at a cost: after awarding the distillery his Royal Warrant in 1994, he crash-landed his plane on Islay's tiny airstrip when arriving to visit. Nobody was hurt, but the damage was put at £1m.
Typical Character and Style of Islay
Seaweed

Brine

Carbolic Soap

Apple

Smoke

Kippers
Distilleries in Islay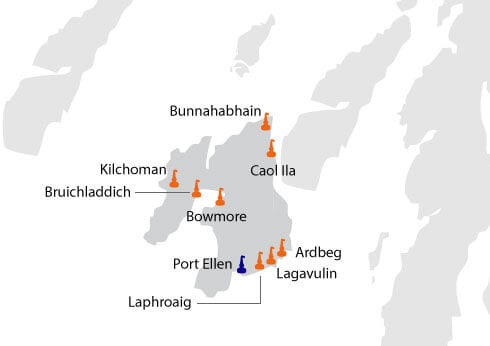 Close
Price Range
Bottling Status
Distillery/Brand
Age
Vintage
Cask Type
Bottler
Series
Strength
Size
Single Cask
Limited Edition
Flavour Profile
Colouring
Certification