Golden
Rum
Golden rum is elusive, running the gamut of intensity from lightly fragrant to rich and powerful; it's the place where the skill of the blender shines through, where pot still and continuous still spirits are intertwined to create rums of great complexity, and where the worlds of cocktail and sipping rums overlap.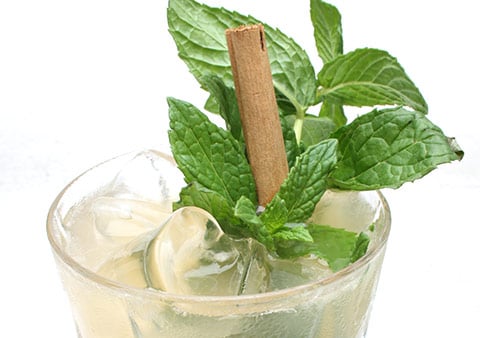 Golden rums are ideal as a base ingredient for cocktails
How is it made?
As you might expect, golden rums are something of a halfway house between their white and dark counterparts. Although hard to pin down to any specific style, they have varying levels of complexity and mellowness from a period in oak casks, most typically previously used for bourbon.
Art of the blender
In particular, golden rum is where the skilled blender earns his or her corn. Many of the rums here are a mix of rums distilled by the continuous method and via pot stills, producing spirits of hugely divergent characters which have to be melded into a harmonious whole.
You'll taste it in a rum such as Chairman's Reserve from St Lucia, where the leathery pot-still character shines through without ever completely dominating; or in Mount Gay Eclipse, whose soft, creamy texture and sweet fruit is given extra heft by a dose of pot-still spirit.
How to drink it
We're on the cusp here between cocktail and sipping rums – although that's largely a question of personal taste. As such, Appleton Special tones down the typically punchy Jamaican character to produce a honeyed, nutty rum built for mixing, while stablemate Appleton V/X is a model of versatility – complex, toffeed fruits make for great cocktail material, but it's also great on its own.
Similarly, Havana Club Añejo Especial is the perfect example of the blender's art in creating a relatively youthful but soft and complex rum for refined Daiquiris; but, at the other end of the scale, an aged rhum agricole such as Clément XO offers firm structure and superb elegance, combining rums from acclaimed years including 1976, 1970 and 1952.
Did you know?
Age statements in rum are a

minefield

: while some countries stipulate that they must signify the youngest rum in the blend, others use an average figure – or, in extreme cases, refer to the oldest!
Some aged rums use the

solera system

to mature their spirit, a complex arrangement involving barrels of various ages and where, when some of the oldest rum is decanted, it is replaced with the next oldest, and so on down to the youngest rums in barrel
Typical Character and Style of Golden
Toffee

Oak

Banana

Butterscotch
Close
Price Range
Bottling Status
Producer
Country
Type
Age
Vintage
Cask Type
Strength
Size
Single Cask
Aged at Origin
Limited Edition
Colouring
Sustainability