Dark Rum
This is rum's historic heart of darkness; the molasses-rich spirits which, long before white rum, drove its production and consumption, on the ships of the Royal Navy and in the pubs of 1900s' England. Often heavy with obscuring caramel, but when stripped down, heady, rich and powerful liquids.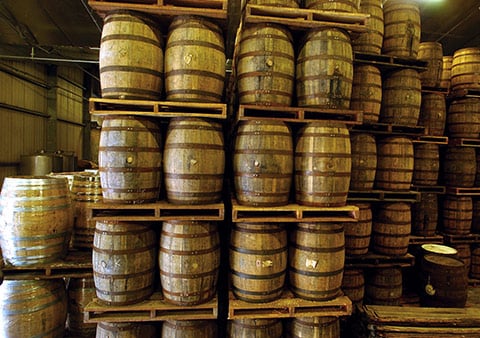 Dark rum is the heaviest style available and is made with molasses
A question of age?
With most spirits categories, the darker the product, the older you might expect it to be. While that can be the case with dark rum too, those inky depths are often the result of extended contact with molasses and caramel, lending them a sweet, fat, heavy character.
Naval attachment
For centuries, if you were a serving member of the Royal Navy, you were entitled to a 'ration' of rum. What started out as a health precaution – the water on board 17th-century ships didn't stay fresh for long – became tradition and a lucrative trade on dry land too.
The rich, forbiddingly dark Demerara style of rum developed in Guyana became the heart of Navy rum, often alongside the punchy rums of Jamaica – although a Navy rum such as Lamb's might combine as many as 18 rums in its traditionally tannic, foursquare blend, including spirit from Trinidad.
Famous Dark Rum brands
Although past its heyday, Navy rum remains big business and is best encapsulated by the likes of Lamb's, Wood's 100, Pusser's and Demerara. But there's more – far more – to dark rum than that: Myers's from Jamaica offers a dark rum that's perfect for richly accented cocktails, while Gosling's Black Seal gives dark rum a distinctively Bermudan twist with its black-fruit sweetness and spiced treacle.
But it's not all caramel and molasses. There are full-aged dark rums too, such as Zacapa's annual Reserva Limitada release, matured at altitude in a solera ageing system, and the remarkable high-proof Trinidadian vintage rums produced at the now sadly closed Caroni distillery.
Naval Attachment
Dark rum is inexorably linked to the Royal Navy, when hardworking sailors would be given a daily tot of dark rum. This tradition continued until as recently as 1970 – with the final day before the practice was scrapped forever known as Black Tot Day.
Did you know?
Before

Admiral Nelson

was laid to rest, his body was preserved in a cask of rum
Dark rum gets its rich, deep colour from ageing in

heavily charred

oak barrels
In the 19th century, rum was used to

clean hair

and strengthen its roots
Typical Character and Style of Dark Rum
Dried Fruit

Coffee

Dark Chocolate

Oak

Leather
Close
Price Range
Bottling Status
Producer
Country
Type
Age
Vintage
Cask Type
Strength
Size
Single Cask
Aged at Origin
Limited Edition
Colouring
Sustainability